By Mayo Clinic Staff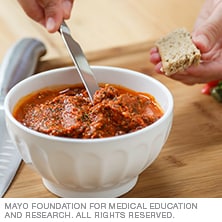 Dietitian's tip:
Traditional pesto is made with basil and pine nuts, but you can experiment with many variations. This one's a winner!
To make this plant based, leave out Parmesan cheese.
Number of servings
Serves 12
Low Sodium
Low Fat
Healthy carb
Ingredients
4 red bell peppers
3 cups fresh basil leaves
3 tablespoons pumpkin seeds
3 tablespoons grated Parmesan cheese
1 tablespoon olive oil
1 teaspoon garlic
1/2 teaspoon kosher salt
Directions
Heat grill. Place the whole peppers on direct heat. Turn peppers as the outer skin blackens. When the majority of the skin is black, remove peppers from heat and place in a bowl. Cover with plastic wrap and set aside to cool.
Peel the cooled peppers. In a food processor, combine peeled peppers with the remaining ingredients. Process until mixture is smooth and resembles a pesto.
Nutritional analysis per serving
Serving size: 1/4 cup
Calories

45

Total fat

3 g

Saturated fat

1 g

Trans fat

0 g

Monounsaturated fat

1 g

Cholesterol

1 mg
Sodium

104 mg

Total carbohydrate

4 g

Dietary fiber

1 g

Total sugars

2 g

Protein

2 g
Created by the executive wellness chef and registered dietitians at the Mayo Clinic Healthy Living Program.
July 28, 2022

.