By Mayo Clinic Staff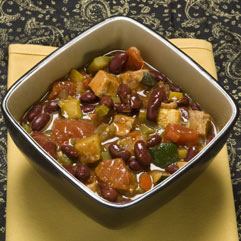 Dietitian's tip:
This chili makes good use of leftover roasted turkey.
Number of servings
Serves 8
Healthy carb
High Fiber
Ingredients
2 cups chopped zucchini
2 teaspoons olive oil
1 cup chopped onion
2 cups chopped celery
1 cup chopped bell peppers
2 teaspoons chopped fresh garlic
1 pound chopped cooked turkey
1 1/2 tablespoons chili powder
1 teaspoon cumin seed
2 cups diced canned tomatoes, no-salt-added
4 cups canned kidney beans, rinsed and drained
2 cups low-sodium vegetable broth
1 teaspoon brown sugar
Directions
Heat the oven to 475 F. Spray a glass baking dish with cooking spray. Arrange the zucchini in a single layer in the baking dish. Roast for 8 to 10 minutes until slightly tender and lightly browned.
While the zucchini is roasting, add the oil and chopped onions to a dutch oven or soup pot. Saute over low heat until the onions are browned. Add the celery and peppers and continue to saute. Add garlic, turkey, chili powder and cumin seed. Cover and simmer for about 5 minutes.
Stir in the tomatoes, kidney beans, vegetable broth, brown sugar and the roasted zucchini. Cover and simmer for 15 minutes. Ladle into warmed individual bowls. Serve immediately.
Nutritional analysis per serving
Serving size: About 1 1/2 cups
Calories

251

Total fat

4 g

Saturated fat

1 g

Trans fat

Trace

Monounsaturated fat

2 g

Cholesterol

57 mg
Sodium

161 mg

Total carbohydrate

28 g

Dietary fiber

8 g

Added sugars

0.5 g

Protein

26 g

Total sugars

5 g
Meats, poultry and fish

2

Nuts, seeds and dry beans

1

Vegetables

2
Protein and dairy

2

Vegetables

2
Meat and meat substitutes

3

Nonstarchy vegetables

2

Starches

1
Dec. 11, 2021

.