By Mayo Clinic Staff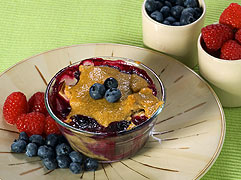 Dietitian's tip:
Berries are an excellent source of antioxidants. You may substitute frozen fruit in the recipe.
To make this plant based, use an egg substitute instead of egg whites.
Number of servings
Serves 6
Low Sodium
Low Fat
Ingredients
For the filling:

1 cup fresh raspberries
1 cup fresh blueberries
2 cups chopped apples
2 tablespoons turbinado or brown sugar
1/2 teaspoon ground cinnamon
1 teaspoon lemon zest
2 teaspoons lemon juice
1 1/2 tablespoons cornstarch

For the topping:

Egg white from 1 large egg
1/4 cup soy milk
1/4 teaspoon salt
1/2 teaspoon vanilla
1 1/2 tablespoons turbinado or brown sugar
3/4 cup whole-wheat pastry flour
Directions
Heat the oven to 350 F. Lightly coat 6 individual ovenproof ramekins with cooking spray.
In a medium bowl, add the raspberries, blueberries, apples, sugar, cinnamon, lemon zest and lemon juice. Stir to mix evenly. Add the cornstarch and stir until the cornstarch dissolves. Set aside.
In a separate bowl, add the egg white and whisk until lightly beaten. Add the soy milk, salt, vanilla, sugar and pastry flour. Stir to mix well.
Divide the fruit mixture evenly among the prepared dishes. Pour the topping over each. Arrange the ramekins on a large baking pan and place in oven.
Bake until the filling is tender and the topping is golden brown, about 30 minutes. Serve warm.
Nutritional analysis per serving
Serving size: About 2/3 cup
Calories

119

Total fat

0.5 g

Saturated fat

Trace

Trans fat

0 g

Monounsaturated fat

Trace

Cholesterol

0 mg
Sodium

114 mg

Total carbohydrate

24 g

Dietary fiber

4 g

Added sugars

5 g

Protein

3.5 g

Total sugars

12 g
Grains and grain products

1

Fruits

1
July 26, 2022

.