I was first introduced to adrenal cocktails in 2019. At the time, I was one year into my PCOS diagnosis. Determined to heal my hormones naturally (spoiler alert: success!), I went all in. Of everything I tried, getting a grip on nutrition was critical. Food was a game-changer. And it wasn't just about what I was eating, but how I was eating. I began focusing on nutrient-dense foods and balancing my blood sugar. Almost immediately, I noticed a significant shift in my energy. Regardless, I still needed to get my stress under control. Which, in part, meant using food as medicine. Enter: the adrenal cocktail.
As the name suggests, this mocktail is a magical elixir of vitamin C, potassium, and a slew of essential minerals. It supports energy and hydration. Best of all, it tastes delicious. Whether you're feeling burned out, stressed, or simply want a refreshing drink in the afternoon, add these adrenal cocktail recipes to your daily wellness routine.
This article is for informational purposes only. It is not, nor is it intended to be, a substitute for professional medical advice, diagnosis, or treatment and we recommend that you always consult with your healthcare provider.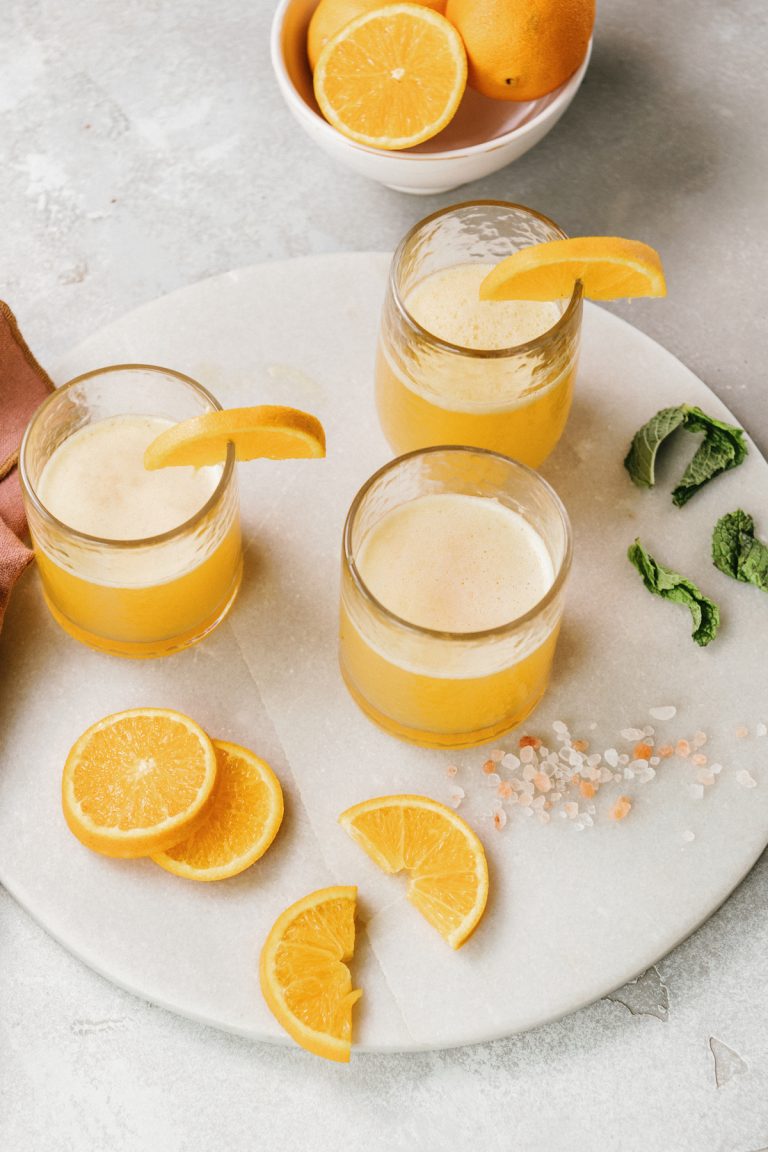 What Is the Adrenal Cocktail?
Hate to disappoint, but this drink isn't actually a cocktail. That said, it could be delightful in your favorite distilled bevvy! The adrenal cocktail focuses on three nutrients: vitamin C, sodium, and potassium. These are key to maintaining adrenal health (more on the adrenals, below). This trio also helps maintain hormone stability, proper hydration, and electrolyte balance.
Basically, the adrenal cocktail helps replenishes the body's adrenal glands. Because of this, it helps counter fatigue. While specific ingredients vary, most adrenal cocktail recipes contain a combination of orange juice, coconut water, and a large pinch of sea salt.
Ingredients in Adrenal Cocktails
As mentioned, the adrenal cocktail effectively replenishes electrolyte balance and helps maintain hormone health. It's a win-win. Plus, this drink is heavenly on a hot summer day. Typically, adrenal cocktail recipes include fresh orange juice, coconut water, and sea salt. However, the sky's the limit. You can also add cream of tartar (for more potassium), collagen powder (for protein and joint health), magnesium powder (for regularity), and canned coconut cream (to balance blood sugar).
Fresh Citrus Juice
Adrenal cocktails start with fresh orange juice. (Lemon or grapefruit work, too!) This serves two main purposes: Orange juice is loaded with vitamin C and it's an energizing source of simple carbohydrates. When you're stressed, your adrenal glands use more vitamin C than they would on a regular basis. Beyond regulating cortisol production, vitamin C's antioxidant properties are also needed to fuel the adrenal glands, protect against oxidative stress, and boost the immune system.
You can also sub fresh OJ for one teaspoon of whole food vitamin C powder. I like this one from Pure Synergy—it's made from real fruits rather than ascorbic acid.
Coconut Water
In addition to being naturally sweet and hydrating, coconut water is loaded with several important nutrients—including minerals that many people don't get enough of. Unlike coconut milk, which is a blend of coconut water and grated coconut, coconut water is a coconut's clear fluid. For potassium and other electrolytes, opt for pure coconut water. Otherwise, you can sub this for aloe vera juice!
Sea Salt
By adding a large pinch of high-quality sea salt (Himalayan or Celtic), you're adding additional essential electrolytes and minerals (like magnesium) that are key for energy production, blood pressure, and adrenal function. Salt also elevates the flavor of adrenal cocktails, so don't skimp!
Optional Add-Ins
When it comes to adrenal cocktail recipes, there are plenty of optional add-ins. You can either keep it simple or elevate this daily wellness routine. Because there is some concern that the natural fruit juices in adrenal cocktails can spike blood sugar, you can add a few spoonfuls of thick coconut cream for fat and a scoop of collagen powder for protein. Both of these macronutrients will help blunt a blood sugar spike.
If you'd rather add coconut milk instead of coconut cream, that's a great option as well. Coconut milk has fatty acids to help stabilize blood sugar levels and provide your body with energy. Personally, I prefer coconut cream because it'll make your drink taste like a creamsicle (seriously!).
When is the best time of day to drink adrenal cocktails?
Most of my clients prefer drinking their adrenal cocktail mid-morning. That said, it can also serve as an afternoon pick-me-up. Energy levels tend to dip between 10 and 11 a.m. and 2 and 3 p.m., so either of those windows—when you would normally reach for a cup of caffeine or a handful of sugar—is ideal.
You can also try the adrenal cocktail as a bedtime snack if you deal with 3 a.m. insomnia (this can be the result of a daytime blood sugar issue). Otherwise, it serves as an energizing pre-workout snack! Last but not least, try it as a light breakfast—particularly if you find yourself not hungry upon waking. This potent elixir will kickstart your metabolism.
If you're pre-diabetic or diabetic, consult your physician before introducing the adrenal cocktail. It's best to drink this shortly after a meal, as opposed to in between meals if you have blood sugar management issues. Drinking it about 10-15 minutes after a meal will help blunt a blood sugar spike.
What are adrenal glands?
All of that said, you might be wondering: What are adrenal glands? The human body has two adrenal glands. They're hormone glands, located on top of both kidneys. They produce hormones that help regulate various processes: metabolism, glucose, blood pressure, immune system, and response to stress. We can't live without our adrenal glands, so it's important to support and nurture them as best as possible!
Signs Your Adrenal Glands Are Out of Whack
The central theme with the adrenal cocktail is balance. It encourages our body's natural ability to regulate blood sugar, energy, and fight fatigue. One of the ways we can support homeostasis—and overall wellbeing in the body—is via the adrenal cocktail. Signs you may benefit from the adrenal cocktail:
Extreme fatigue
Weight loss and decreased appetite
Darkening of your skin (hyperpigmentation)
Low blood pressure, even fainting
Salt cravings
Low blood sugar (hypoglycemia)
Nausea, diarrhea, or vomiting (gastrointestinal symptoms)
Abdominal pain
The adrenal cocktail is a simple yet effective way to lessen the symptoms of adrenal fatigue. If you're feeling run down, it's worth a shot! Helping bring a few important hormones and mineral levels back into balance, this magical concoction benefits overall health.
Disclaimer: consult your physician before introducing the adrenal cocktail.